Alaska Salmon Fishing in Cook Inlet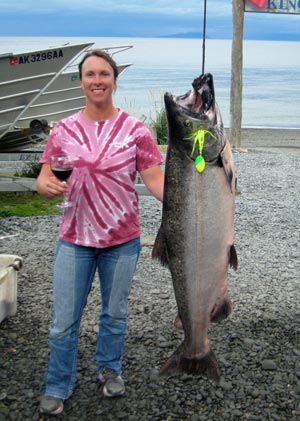 Alaska Salmon Fishing in our shallow saltwater fishery is a truely exhilarating experience!
The lodge offers two different runs of kings and a solid silver run offering anglers both king salmon fishing and silver salmon fishing opportunities.
The First King Salmon Run
The first run of king salmon comes by the lodge from early May through mid June.  These fish average 25-35 lbs. with quite a few over 40 lbs. taken.
This run is very plentiful and offers a lot of aggressive action for our guests.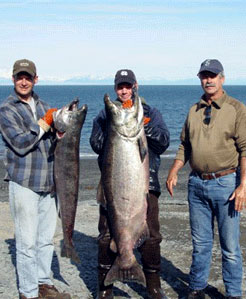 The Second King Salmon Run
Our second run of king salmon is our trophy run.  These fish come by the lodge from the end of June through early August.
Second run Kings are definitely bigger on average. These fish average 40-45 lbs. with a chance at a 50-80 lb. fish! We are only a few miles downstream of the world famous Kenai River and all the kings headed there pass right in front of our lodge. Because of that our Alaska salmon fishing charters offer an opportunity to catch a truly world class trophy. Fighting these monsters in our waters is second to none. Hang on tight when that wall hanger hits!
The Silver Salmon Run
Last is our silver salmon run.  These  fish average 8-18 lbs. and offer more hook up action than our king salmon.
Silvers are very entertaining, jumping out of the water numerous times!  Whether it's reel burning kings or acrobatic silvers King of Kings has it all!