Alaska Fishing Trips & Lodge
Salmon and Halibut Charters
Near Shore Fishing Charters in Cook Inlet Alaska
Unique Among Alaska Fishing Lodges
Welcome to King of Kings Lodge. We are a family run full service fishing lodge located on the Kenai Peninsula within easy driving distance of Anchorage. CLICK MAP ON RIGHT
We believe Alaska fishing should be more than just getting your line wet. We take that extra time to help make your stay with us the most memorable of a lifetime.
Our salmon charters and halibut charters are very unique when compared to most of the other Alaska fishing charters. If you've ever experienced a halibut or salmon charter where it felt like they were herding cattle, you will enjoy the refreshing difference of our personalized service.
Driving Distance From Anchorage  |  Affordable Prices  |  Full Service Lodging & Fishing
Why Are Our Salmon and Halibut Trips Different?
We Fish Near Shore – No long boats rides, wasting time, and being beat up by rough seas.
We Fish Shallow Water – No tired arms and back, or reeling up 300 feet of line with a 5# weight.
We Fish A Full Halibut Charter and A Full Salmon Charter On Every Trip – No more having to choose.
We Fish Close To Our Lodge – We launch from our own beach – watch the action from shore with binoculars
Fish Cook Inlet on Alaska's World Famous Kenai Peninsula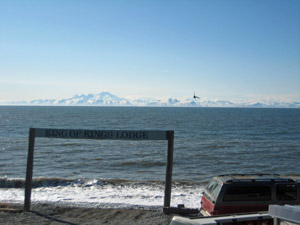 We specialize in offshore Alaska salmon and halibut fishing. Our lodge is located close to the fishing grounds so we can put you on the fish quickly. Our Alaska fishing trips include saltwater king salmon fishing and shallow water halibut fishing.
Our Alaska fishing lodge is located on the waters edge only 100 feet from Cook Inlet with panoramic views of the ocean, majestic mountains, and active volcanoes.
We offer Alaska fishing trips that will be remembered for a lifetime and complete anyones Alaskan adventure.
Halibut fishing and salmon fishing from our lodge on Cook Inlet provides some of the finest Alaska salmon fishing and halibut fishing you can find anywhere.
Follow Us on FaceBook