Options for getting to Kings of Kings Lodge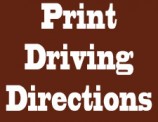 Option 1 – Rent a car and drive the very scenic four-hour drive south to the lodge.  Travelers that are new to the area will highly appreciate the gorgeous scenery and wildlife on the drive to the Kenai Peninsula.
Option 2 –  Catch a commuter flight into the town of Homer.  There is one airline that flies into Homer, Raven Air.  The flight is roughly 40 minutes and we will meet you at the airport and transport you the 25 miles back to the lodge.  The arrival times that we pick up at the airport is the arrivals between 3:00-5:50 PM.
Driving Directions From the Airport:
When you leave the rental car area at Ted Stevens International Airport you will be on International Airport Rd heading toward the mountains. Follow these simple directions and they will guide you to our lodge.
1. Proceed on International Airport Rd about 2 miles and watch for Minnesota Drive
2. Turn right onto Minnesota Drive and proceed 4 miles and watch for Seward Hwy. (Pass Old Seward Hwy and keep going until you see to Seward Hwy)
3. Turn right onto Seward Hwy (AK-1 S) and head south.  Travel approx. 82 miles and you will see the Hwy split. Stay right and proceed on AK-1 S following signs toward Kenai and Homer.
4. Continue on this Hwy for another 106 miles. You will pass through towns of Sterling and Soldotna along the way. When you arrive in Soldotna stay straight and follow signs toward Homer.
5.  Once you go through Soldotna headed south on AK-1 S you will have about 50 miles to go.
6. Once you get to the town of Ninilchik please call us so we can meet you at the parking area to transport you down to the lodge. 907-567-3667
7. After you go through Ninilchik watch for Happy Valley Bar and Café. Once you pass it you will quickly see Inlet Cove Lane on your right only ½ mile further. Turn right and follow the lane to the parking area where we will meet you.
King of Kings Lodge
24715 Sterling Highway
Anchor Point, AK  99556
907-567-3667