World Class Halibut Fishing Right in Front of the Lodge!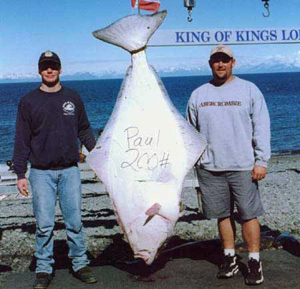 Alaska Halibut Fishing Trips
Our halibut fishing trips offer impressive battles without the deep depths to break your back!  In our shallower waters the halibut fight better and offer a lot of action for our customers! Our fishing season runs from May through Labor Day at the lodge, and the halibut fishing remains good throughout that time.
In most areas of Alaska, customers have to go on a long boat ride to deep water to find nice fish.  Not the case here!  Five to fifteen minutes from the front door of the lodge and you are anchored and fishing.
No more spending part of your day travelling to the fishing grounds, when you could have used that time to have a line in the water.
Our open boats offer a full Alaskan experience!   There is nothing between you and the Beautiful scenery of Cook Inlet.  Be prepared to take pictures of the grandiose Alaska Range, sea otters lounging in the surf, and whales surfacing in these rich waters.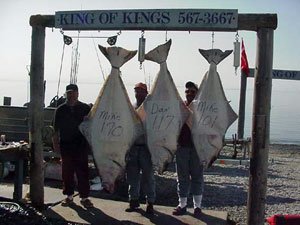 Halibut Fishing Charters
Taking home a box of fresh caught Alaska halibut is on the top of the list for anglers worldwide. Halibut in Cook Inlet are plentiful and there is arguably no finer fish to eat.
Since our Alaska halibut fishing lodge is situated just feet from Cook Inlet we fish right off the beach in front of our lodge. This means travel time is cut to a minimum which gives our guests more time to fish which equals more fish to take home. Make sure your freezer is empty as our halibut will fill it up fast!