Alaska Fishing Trips – Salmon and Halibut Fishing
King of Kings Lodge – Fishing Cook Inlet Alaska
Alaska Fishing Trips and Lodging
King of Kings Lodge is a full service fishing lodge located on the shores of Cook Inlet. We are a family run full service fishing lodge located on the Kenai Peninsula within easy driving distance of Anchorage. CLICK MAP TO ENLARGE
Our Alaska fishing trips are much more than just getting your line wet. Our accommodations are warm and comfortable and our top notch guides know how to put you on the fish.
Our charters for king salmon, silver salmon, and halibut are very different than most other Alaska fishing charters. Our personalized service and attention to detail is the key and we will make sure your Alaska fishing trip is second to none.
Easy Drive From Anchorage  |  Competitive Prices  |  Fishing & Lodging
Our Halibut Charters and Salmon Charters Are Different
We Fish Close To Shore – Saves time and keeps you from being beat up by long boat rides in rough seas.
We Fish Shallow Water – Save your back! You won't need to crank up heavy weights from very deep water.
With Us You Get A Full Day Halibut AND Salmon Charter Each Day

 – Very rare opportunity!
Cook Inlet is one of Alaska's Most Productive Fisheries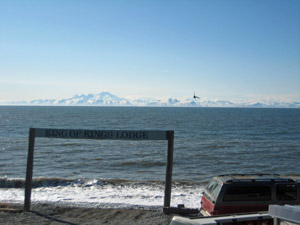 Our lodge is right on the shores of Cook Inlet, close to all the fishing. We offer superior halibut and salmon fishing throughout the summer months.
Since we're only 100 feet from the water's edge, you'll not only be on the fishing grounds quickly each day, but you'll also have superior views from your room of vast stretches of Cook Inlet as well as majestic mountains and volcanoes that are still active.
Your Alaska fishing trips with us will be memories for a lifetime and you'll want to return again for more. The waters in front of our lodge produce some of the best Alaska halibut and salmon fishing found anywhere on earth.
Follow Us on FaceBook